Cute Dresses For Girls To Wear
Posted by SHANTANU DUGAR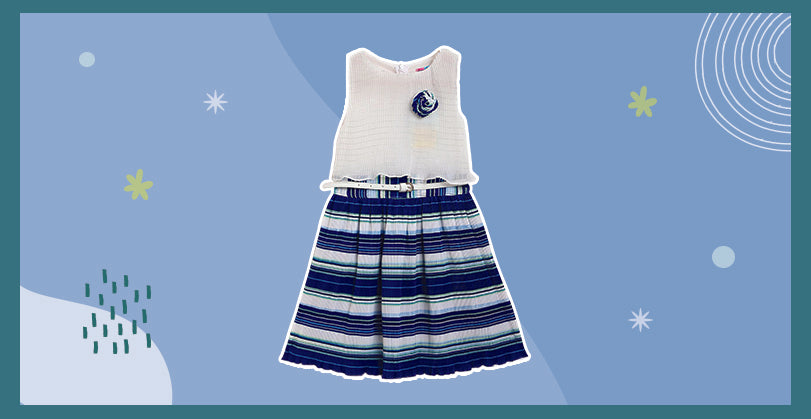 It's soon going to be summer season again, the favorite season for kids to flaunt their dresses and move and dance away their vacations. The burden of heavy weighing woolens was already getting to them. Summer means wearing gorgeous and lightweight clothes and bright and pop colors that capture the mood of these restless devils who are always up to some mischief. And no kid will resist wearing beautiful and trendy dresses that make them feel like a princess. So hold your breath as we present to you dresses for girls  that are our personal favorites for the summer of 2021. We are sure your naughty one will love these dresses in cheerful colors. 
Pastel colors look quite subtle yet pretty as they give off a cool tone to the dress. A very good one for those hot summer days. Dresses for girls that have a tassel detailing are kids favorite as they immediately capture their attention. 
The polka pattern in vibrant colors looks quite trendy against a dark color like navy blue or black. The appeal of polka dots has come into the mainstream fashion again. Your kid can wear a polka dot dress when visiting a friend. 
This mesmerizing dress for girls is sure shot going to take a special place in your little one's heart. The digitally printed floral pattern is truly beautiful. Plus it comes with a shrug to complete the look. A perfect choice to attend parties and social gatherings in. 
This one is a very subtle looking casual dress, perfect for casual day outings. The striped pattern makes this dress for girls look appealing. And to accessorize it, there is a belt given in addition to a sheer shrug. Overall, this will give quite a sober look to your kid. 
How could we not include a frilled dress for girls in the list of our favorites? Frills have been a part of everyone's childhood and rightly so. They look adorable on little kids! You sure can't afford to miss this cute frilled dress in a tropical print. 
These were our favorites from the dresses category. Visit our website  to shop for your little one and let her make these dresses her favorite too. Collection 2019 Sale 70% Off Title for image